ON THE PAVILION LES CINÉMAS DU MONDE N°108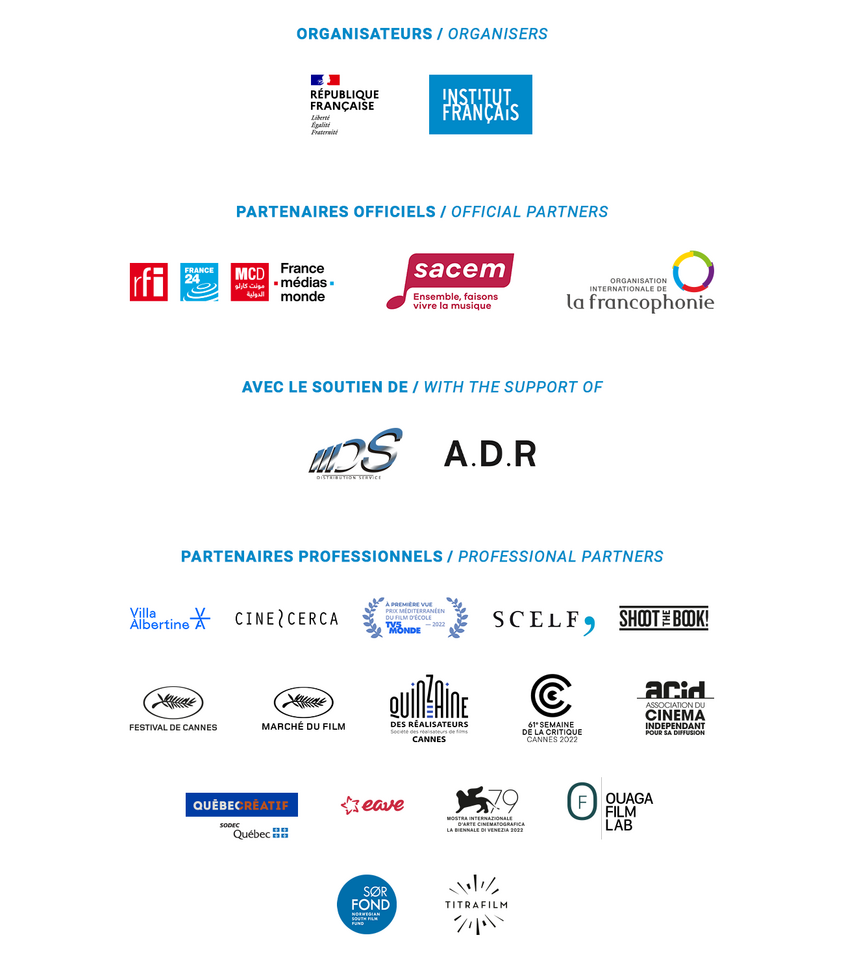 THURSDAY 19 MAY
10 a.m. – 12.30 p.m.: La Fabrique Cinéma de l'Institut français - Project Pitches
The 2022 selection for La Fabrique Cinéma includes 10 first and second feature-length projects, 1 documentary and 9 fictions. Directors and producers will present their projects live and answer questions from guest industry professionals. Meet the participants, who come from Burkina Faso, Egypt, India, Mexico, Nepal, Pakistan, Rwanda, Ukraine and Vietnam. 
Moderator: Elias Ribeiro (Urucu Media)
4 p.m. – 6 p.m.: Meeting with audiovisual industry attachés -networking
Open session, no prior meeting necessary, with audiovisual attachés and correspondents from the French cultural network abroad present in Cannes.
FRIDAY 20 MAY
10 a.m. – 12 p.m.: Masterclass by film director Midi Z, patron of La Fabrique Cinéma by the Institut français (on invitation only)
Midi Z, a Burmese-Taiwanese director and producer, will look back over his career, which has made him one of the most anticipated directors of his generation. His films have been selected in competition at Cannes, Berlin, Venice and Rotterdam. From his participation in La Fabrique, with The Road to Mandalay in 2012, to his latest films, he will share his experience with the participants selected.
Moderator: Thomas Baurez, journalist
Broadcasted on the website and the Facebook page of the Institut français on Saturday 21 May
SATURDAY 21 MAY
10 a.m. - 1 p.m. SACEM meetings (Professional meetings on invitation)
When it comes to film, listening is as important as watching. The Institut français and SACEM join forces for the sixth consecutive year, placing a focus on the music in film, by organising professional meetings dedicated to the composers and directors in La Fabrique Cinéma. Several composers, such as Marc Marder and Amine Bouhafa, have forged ties with directors from La Fabrique Cinéma, and compose film music for these young directors.
3 p.m. – 5 p.m.: The International Organisation of la Francophonie (OIF) Conference
The OIF support fund will announce the results of its two committees which ran during May (Fiction, Documentary, Series) and will also present news about Clap ACP, its programme supporting co-production between developing countries, carried out with five support funds based in Africa.
5 p.m. – 6 p.m.: Generation Films Collective – OUAGAFILMLAB #7
OUAGA FILM LAB presents its 7th edition. This development and co-production lab, dedicated to feature films and series, will launch its pan-African edition in Côte d'Ivoire in September 2022.
Moderator Alex Moussa Sawadogo, Artistic Director
SUNDAY 22 MAY
2 p.m. – 3 p.m.: Villa Albertine presents "10 in America"
Starting in July 2022, Villa Albertine, a new French institution in the United States, will host 10 peer filmmakers in residencies in 10 U.S. cities. These filmmakers have been critically acclaimed and their first feature films have been selected in major international film festivals. 
The full list of filmmakers will be revealed at a panel discussion moderated by Valérie Mouroux, Director of the Film, TV and New Media Departement of the Villa Albertine, with Catherine Bizern, collection curator and director of the Cinéma du Réel festival; Michel Klein, producer (Les Films Hatari), William Jéhannin, producer (UFO Production) and directors (TBC).
3 p.m. – 4:30 p.m.: Meetings with audiovisual attachés -networking
Open session, no prior meeting necessary, with audiovisual attachés and correspondents from the French cultural network abroad present in Cannes.
MONDAY 23 MAY
6.p.m. - 8 p.m. CINE CERCA writing residency – public presentation of the projects selected
CINE CERCA is a screenplay writing residency which supports French-speaking and Portuguese-speaking filmmakers in the development of their projects. The residency has two sessions, running for one month in total, at Cortex Frontal (Alentejo, Portugal) and at Château de La Napoule (Côte d'Azur, France).
Project supported as part of the France-Portugal 2022 Season.
WEDNESDAY 25 MAY
6 p.m. – 8 p.m.: "À Première Vue" prize — TV5MONDE/COPEAM: Prizegiving ceremony
The Permanent Conference of Mediterranean Audiovisual Operators (COPEAM), in cooperation with TV5MONDE, is organizing the first edition of the Mediterranean prize, "À PREMIÈRE VUE" ("at first sight"), dedicated to young talent in film schools in the region.An international jury will present the prize to one of 15 short films made in 2021 by film students from ALBA (Lebanon), ESAC (Tunisia) and ESAV Marrakech (Morocco). The winner will take part in the FIDCampus residency for the 2022 edition of FIDMarseille.
THURSDAY 19 MAY
10 a.m. – 1 p.m.: Shoot the Book! Masterclass on audiovisual adaptation of literary works (hors les murs)
Supported by the expertise of the French cultural network abroad, to map out the international audiovisual market, and particularly through its partnership with SCELF for the adaptation market, with the Shoot the Book! programme, this year the Institut français is organizing a two-part masterclass dedicated to exploring the Italian and German adaptation markets, with the support of Film Paris Région.
3 p.m. – 5 p.m.: Shoot the Book! Pitches
Shoot the Book! Cannes 2022 reveals its selection of 10 French and international literary works chosen by an international panel of audiovisual professionals for their high adaptation potential. Introduction by their respective publishers.
 
FRIDAY 20 MAY
10 a.m. – 1 p.m.: Shoot the Book on the audiovisual adaptation market / One-to-one meetings in the Short Film Corner
Individual professional meetings between publishers and producers who together shape the international adaptation market. Part of the Marché du Film.