LA FABRIQUE DES CINEMAS DU MONDE, A TAILORED PROGRAM FOR TALENTED YOUNG DIRECTORS FROM EMERGING COUNTRIES
La Fabrique des Cinémas du Monde is a tailored program helping talented young directors from emerging countries increase their international exposure. Developed by the Institut français, and designed in close collaboration with the Festival de Cannes and the Marché du Film, the program invites, each year, ten directors working on their first or second feature films to attend the Festival de Cannes along with their producers.
Bruno Foucher
President of the Institut français
FILMS HELP US TO UNDERSTAND THE WORLD AND EACH OTHER
 
Film, a universal language, is central to the Institut français's actions this year.
 We have never needed a way of encouraging discussions and building understanding more than in today's changing world. Despite these difficult times, we must stay on course: we must promote cultural dialogue by fostering French culture and supporting international creation. The values we embody, which
are based on respecting others and their differences, help us find common ground
and shared interests that are beneficial to all.
 
La Fabrique des Cinémas du Monde is central to this initiative. Through this programme,
we give young directors and producers from emerging countries access to an exceptional platform where they can develop projects in the best possible environment. This year, we are pleased to announce the completion of six new projects, which will soon be released in theatres and at festivals. They include Road to Mandalay by Midi Z (Burma), Memory Exercises by Paz Encina (Paraguay) and Rey by Niles Attalah (Chile). These films received support from the Aide aux cinémas du monde (World Cinema Support), which is funded by the Institut français and the CNC.
 
Films are a way of sharing values, despite the borders that separate us. This is the idea behind CinEd, a European cinema education platform for young people. The Institut français, which coordinates this project for the European Union and six other partner countries, will present this initiative
at Cannes.
To ensure people are able to watch films
in the best possible conditions, the Institut français is also equipping theatres in France's international cultural network with digital technology. This initiative was launched in 2014 with support from the French Ministry of Foreign Affairs and International Development and the CNC, and has benefitted 40 theatres in 31 countries.
 
I would like to thank the Festival de Cannes, represented by its President, Pierre Lescure, and General Delegate, Thierry Frémaux, for their warm welcome and the visibility they provide to foreign filmmakers. We are also extremely grateful to the International Organisation of La Francophonie and France Médias Monde for their confidence in us.
 
I would like to thank Michaëlle Jean, Secretary General of the IOF, and Marie- Christine Saragosse, President of France Médias Monde, for their unfailing support.
 
I hope you enjoy the Festival!
Michaëlle Jean
Secretary General of La Francophonie
WORKING TOGETHER TO SUPPORT TOMORROW'S TALENTS
 
Jean Cocteau said, «The Festival de Cannes is a microcosm of what the world would be like if people could contact each other directly and speak the same language.»
 
For French-speakers, this festival is an opportunity to showcase our realities, histories, imaginations, unique forms
of cultural expression, evocative language and sublime talents.
 
Films bring together so many different
kinds of expertise, knowledge and abilities. They require strength and skills in production and distribution. For over 30 years, the International Organisation of La Francophonie has provided production support to filmmakers in emerging French-speaking countries in the form of the Fonds Image de la Francophonie (Francophonie image fund). The directors who have benefitted from this programme have gone on to achieve international renown.
 
Making films is also about meeting the right people and making the most of opportunities. For this reason, every year, we give ten young people the chance to present their first and second feature-length film projects and get advice from experienced professionals.
 
La Fabrique des Cinémas du Monde, reflects the spirit of our twenty-year partnership with the Institut français and France Médias Monde. During the Festival de Cannes, we also promote French-speaking productions at the Cinémas du Monde Pavilion.
 
We hope that the 69th Festival de Cannes
is another opportunity to celebrate French- speaking contributions to the seventh art.
 
This spring, let us celebrate films that mirror our dreams, hopes and talents.
 
Enjoy the festival.
Marie-Christine Saragosse
Chief Executive Officer of France Médias Monde
LOVE CINEMA AND DREAM THE WORLD
 
Cannes is not just the glitter of Cap Croisette. It is also an international festival, which reflects international tensions, afflictions, conflicts and passions. It was only natural that France Médias Monde and the Festival de Cannes became partners given their shared desire to tell stories – all stories, whether large or small, whether told in 24 frames per second or sixty seconds flat. Every year, we are present at Cannes. Editorial teams from RFI, France 24
and Monte Carlo Doualiya report in fifteen languages on day-to-day events at the Festival and the creative visions of artists from around the world.
 
Films describe the world. We describe Cannes to the world through the radio and television programmes recorded at our studios in
the Cinémas du Monde Pavilion and Cap Croisette. However, the Festival de Cannes is not just any event – it also reflects our commitments. As a longstanding partner of the Directors' Fortnight and Critics' Week, RFI helps support auteur films and the cultural diversity they reflect.
 
The international radio station gives young directors from emerging countries who are experiencing the Cannes whirlwind for the first time the opportunity to discuss their projects, hopes and dreams. France 24 brings international viewers directly into movie theatres.
 
Although France Médias Monde brings together different current events channels, we also know that without artists to share their views of society, this world would become a place of desperation and barbarity. We must dream together, and Cannes is the perfect opportunity to do so – this year more than most. We dream up films that make
us love the world, or we love films that make us dream about the world.
 
Dream cinema and love the world,
or love cinema and dream the world... Shh! It's starting...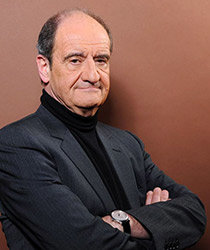 Pierre Lescure
President of the Festival de Cannes
We are living in an era of standardisation. The world is becoming one large village where difference is a dying breed. However, during the month of May, ambassadors from faraway countries representing individual points of view descend on Cannes. They are proof that some unique realities are still holding out; there are pockets of resistance.
 
La Fabrique des Cinémas du Monde is one
of these pockets of resistance. I am proud that the Festival de Cannes has supported this initiative right from the outset. This year, we welcome participants from Angola, Azerbaijan, Brazil, Costa Rica, Egypt, Georgia, Iran, Morocco, the Philippines and Zimbabwe. As always, the programme is extremely promising – because it supports cultural dialogue, and because it offers glimpses of films by talented young directors from emerging countries, paving the way for the next generation.
 
The patron of the eighth Fabrique programme is Jia Zhang-Ke, who follows in the footsteps of Raoul Peck, Walter Salles and Claire Denis. The decision to invite this renowned Chinese filmmaker and scriptwriter, who has received numerous awards and is considered a leader of the independent cinema movement, is wonderfully significant. Jia's work has always combined beauty and realism, shedding light on globalisation's perverse effects in his country. Strongly held views such as these are increasingly necessary in today's world.
 
In welcoming La Fabrique's patron and participants, I would like to pay tribute to
all those who express themselves, open themselves up to others and run the risk
of being loved or hated. They make the world a better place. Difference is a marvellous quality that unites us all.